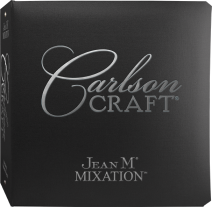 Your customers are unique. They have style. With Jean M® Mixation™, you can give them the choices they want. The album is divided into sections to make it easy for you to direct couples to different invitation options.
Unique Style: Invitations and enclosures featuring different processes like laser cutting, embossing and more. Customers choose the invitation and make it unique by mixing in details.
Trim Options: Couples choose the finishing touch for their invitations and enclosures with die-cut shapes: standard square corners, rounded corners, crest shaped, scalloped edges and ticket shaped.
Ink & Foil Impressions: Thermography and foil designs available in an array of paper color options. Encourage customers to consider the entire invitation suite by mixing and matching ink and foil.