Jean M® Mixation™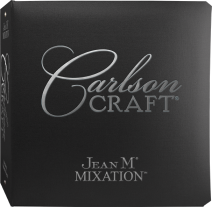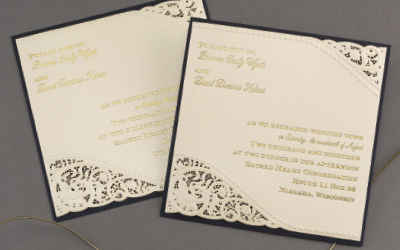 Your customers are unique. They have style. With Jean M® Mixation™, you can give them the choices they want. The album is divided into sections to make it easy for you to direct couples to different invitation options.
Unique Style: Invitations and enclosures featuring different processes like laser cutting, embossing and more. Customers choose the invitation and make it unique by mixing in details.
Trim Options: Couples choose the finishing touch for their invitations and enclosures with die-cut shapes: standard square corners, rounded corners, crest shaped, scalloped edges and ticket shaped.
Ink & Foil Impressions: Thermography and foil designs available in an array of paper color options. Encourage customers to consider the entire invitation suite by mixing and matching ink and foil.
Dealer Information:
50% discount on invitations and a 40% discount on napkins.
Updates
Please Note: Assembly is not Included. Customer assembly is required on ALL invitations ordered with Pockets, Base Cards and Embellishments and ALL Envelopes ordered with Liners and Icing.
Page J – Design 5661C – Though the word "tomorrow" is shown misspelled in the album, the original artwork has been corrected and will print correctly.
Napkin Update: Lettering styles CPP and CVL are not recommended for foil printing.
Please Note: White ink is not available on Kraft papers. If your customer would like white printing, please specify white foil.
See Attached. The item numbers listed have been discontinued from the 4M Mixation album. Items not listed are still active in the album and online. Contact customer service with any questions.
Training Links
There is currently no training for this album.
Video Training
There are currently no training videos for this album.
---
Discontinued Items
Discontinued Date
Description
Page
Item #
08/19/2019
Fuchsia Jumbo Inner and Outer Envelope
16M443490INB, 16M443490INP, 16M443490INV, 16M443490INVP, 16M443490OUTB, 16M443490OUTP, 16M443490OUTV, 16M443490OUTVP
07/31/2019
Mocha Beverage and Luncheon Napkin
18JMCS,18MMCS,18WMCS,18VMCS, 17PMCSB,17KMCS, 17FMCS, 16VMCS,16JMCS,16WMCS,16NMCS
07/29/2019
Navy Shimmer Back Pocket
92
16M19268
03/29/2019
Silver Shimmer Imperial Inner Envelope
94, 72
16M6560INB, 16M6560INP, 16M6560INV, 16M6560INVP, 18M6560INB, 18M6560INP, 18M6560INV, 18M6560INVP
03/12/2019
Artistic Gleam Reception, Accommodation, Response Card and Envelope
8
16MR29678, 16MAC29679, 16ME29677
03/12/2019
Artistic Gleam Invitation
8
16M13677
10/29/2018
Spring Green/Lime Beverage and Luncheon Napkin
104,N,97
16WLMSB, 16WLMSL, 16MLMSB, 16MLMSL, 4FLMSB, 4FLMSL
07/12/2018
Pale Yellow Luncheon Napkin
142, 106, N, 97, 132
16VPYSL, 16WPYSL, 16MPYSL, 4FPYSL, G2074
07/12/2018
Pale Yellow Beverage Napkin
142, 106, N, 97, 132
16VPYSB, 16WPYSB, 16MPYSB, 4FPYSB, G2075
02/09/2018
Luncheon Napkin – Plum
99,103,M,102,89
4FPMSL, 16WPMSL, 16MPMSL, 16JPMSL, 16JPMSLE, JHPMSL
02/09/2018
Plum Beverage Napkin
99,103,M,102,89
4FPMSB, 16WPMSB, 16MPMSB, 16JPMSB, 16JPMSBE, JHPMSB
05/30/2017
Mint/Juniper Luncheon Napkin
NHN80 / **MTSL
05/30/2017
Mint/Juniper Beverage Napkin
NHN70 / **MTSB
03/27/2017
Kraft Luncheon Napkin
**KRSL
03/27/2017
Kraft Beverage Napkin
**KRSB
07/14/2016
Fuchsia Rhinestone
97, B, C, 22
16MK5MMFC, SWK5MMFC, 4FK5MMFC, KNK5MMFC, JHK5MMFC
03/17/2016
Petal Napkins
NA
**PLSB / **PLSL
02/24/2016
Teal Luncheon Napkin
**DTSL
02/24/2016
Teal Beverage Napkin
**DTSB